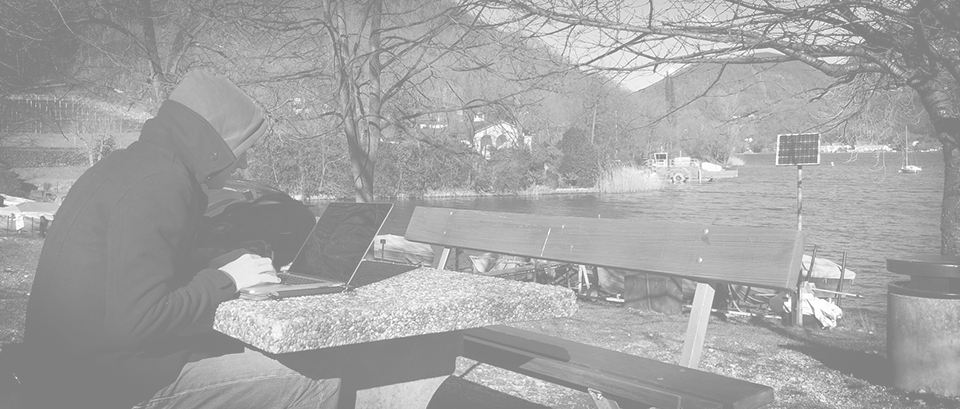 Diego Ioppolo was born in Como in 1990.
At the age of eight, he convinced his parents to give him his very first camera with which he began taking animal and landscape pictures. A few years later, he upgraded his equipment and he discovered the digital photo editing, that combine two great passions: photography and informatics. This new discovery brought him to the composition of graphical images and, meanwhile, using an old MiniDV camera, he began facing the magnificent world of moving images.
During high school he was awarded with several prizes presenting some video works in various competition. His studies lead him to approaching 3D graphic and, for the final exam, he created a 3D model of a building designed by himself. After graduating with honours in 2009 he began studies Civil Engineering at Milan Polytechnic. A few months later, despite good grades, he decided to leave these studies to dedicate himself to his greatest passion: digital film. 
So he enrolled at the SAE Institute in Milan to consolidate his knowledge about the world of cinema and deepening post production and special effects. He got his diploma in early 2012 but at the same time he started working for the leading national TV network. In late 2012 he started a course in 3D animation at SAE Institute and in early 2013 he got the Autodesk ATC Certification for Autodesk Maya.
Today he works as Freelance VFX Artist and Motion Designer based in Milan, expanding his network in US, UK, Switzerland and India. His passion for photography is still alive...
EDUCATION (sorted by date)
2013 Autodesk ATC 3D Animation Certificate Maya
2010-2013 Digital FilmMaking Diploma and 3D Animation Course @ SAE Institute Milano MI Italy
2005-2009 Architecture Diploma @ Magistri Cumacini Como CO Italy
MY AWARD (sorted by date)
Motion Graphics Served Selection |Adobe Systems | Visual Effects - 2014
5th Prize | UMI Pictures Bonaire Editing Competition | Video Editing - 2012
2nd Prize | Contest "Milano Film Festival" SAE Institute | Film Making - 2010
1st Prize | Contest "G. Malinverno" - Ass. Naz. Maestri del Lavoro | Photo Journalism - 2008
1st Prize | Contest "RomaniComo" - Regione Lombardia | Film Making - 2007
Finalist | Contest "Classe Turistica" - Touring Club Italia | Film Making - 2007
3rd Prize | Award "Severo Ghioldi" | Journalism - 2007
Special Mention | Contest L'Amicizia - Provincia di Como | Poetry - 2003
MY SKILLS (divided by work fields)
Premiere Pro - Senior
Final Cut - Senior
Avid - Mid
DaVinci Resolve - Junior
Speedgrade - Senior
After Effects - Senior
Nuke - Senior
Maya - Mid
Cinema 4D - Mid
Blender - Senior
Audition - Mid
Photoshop - Senior
Illustrator - Mid
InDesign - Mid
Acrobat Pro - Senior
HTML5 - Senior
CSS - Senior
PHP - Senior
Adobe Muse - Senior
Adobe Muse Mucow - Senior
CMS - Mid
TOP MOVIES (sorted by date)
Life Of Pi, 2012 by Ang Lee
Moon, 2009 by Ducan Jones
The Hurt Locker, 2008 by Kathryn Bigelow
Dead Poets Society, 1989 by Peter Weir
The Shining, 1980 by Stanley Kubrick
Les quatre cents coups, 1959 by François Truffaut
Rashômon, 1950 by Akira Kurosawa
The Godfather, 1952 by Francis Ford Coppola
Citizen Kane, 1941 by Orson Welles
The Cameraman, 1920 by Edward Sedgwick